In today's packaged vacation with crowded masses and artificial entertainment -The Riverfront Fishing Cottage, both secluded and private, is for those individuals that do not follow the beaten path but like to escape, explore and truly experience nature in all its glory. Just 4 miles from The Cabin and The Home, unlock The Cottage front door and you walk into a space surrounded by sky, water, forest. The cottage is 50 feet from the river and 50 feet above, positioned perfectly on a mountain hillside. Overlooking the East Fork River- the chorus of a river's song, pure and cooling mountain breezes and verdant mountain trees and plants are here to let you know you have truly arrived in the mountains.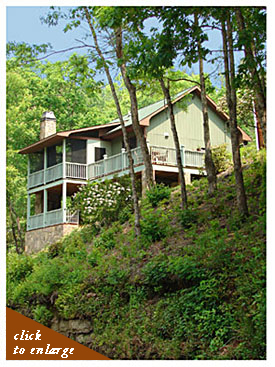 The Fishing Cottage Sleeps 4
The open and sunny deck has a built in grill with rotisserie' and stone top counter top as a prep area. The sights and sounds of the river can be enjoyed at any point from the deck
Once again you will find the custom bedding, window treatments, antiques, local crafts and furnishings are a deftly balanced blend of luxury and casualness.
This could be your secluded destination-your journey's end, sequestered in the lush and beautiful Blue Ridge Mountains of Transylvania county 10 miles south of Brevard NC and at elevation approaching 3000 feet. It is a fly fisher's paradise right on the pristine and untouched East Fork River of the French Broad River. Your luxury waterfront fishing cottage accommodations are only 50 feet from and 50 feet above the banks of the East Fork River.