HIKING TRAILS
Hiking trails abound on the High Hampton estate. Whether you enjoy a leisurely stroll around the lake or prefer a challenging mountain hike, there are trails for guests of all fitness levels. The front desk has information on each trail and can assist you in planning your journey.

Lake Trail

Wildflower Trail
Headwaters Trail Azalea Trail
Shortia Trail Chattooga Ridge Trail Chimney Top Trail Rock Mountain Trail Fieldstone Trail
Southern Appalachian Bog Trail
You will find many spectacular views along the trails and from the ridge tops of our mountains. During the summer, half-day guided walks are scheduled weekly.
Chimney Top Trail — From the Inn at 3600 ft, the trail leads to the peak of Chimney Top at 4618 ft.
Rock Mountain Trail — This renowned mountain reaches 4370 ft.
Waterfall Hikes — Request a Picnic Lunch the day before.
Ask for a Trail Map — Available at the Front Desk.
HEALTH SPA

Enjoy our world-class 5,500 sq. ft. Hampton Health Club & Spa. State-of-the-art workout areas, personal and group training, steam and regular showers, private treatment rooms for massages, facials, pedicures and manicures are available. Hampton Health Club & Spa carries renowned spa products and offers a natural juice bar for our guests. Appointments and walk-ins offered.
THE HAMPTON LAKE SCENE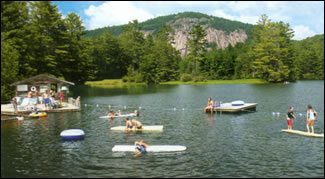 From the Inn, you look out on our private, 35-acre Hampton Lake. The stream-fed waters are calm, protected and ideal for swimming and visits to a stationary raft. There is a wading area, raft and swim area, sand beach and an engaging children's playground.
Since the lake is private, there is no closed fishing season and no license is required. Guests can fish for bass, bream and trout. Bring your special catch to the Inn, and our chef will prepare it for you. Please release the rest for others to enjoy catching.
Many guests enjoy boating. There are sailboats, canoes, kayaks, rowboats and pedal boats. All boats are available for guest use at a minimum charge. No motor boats are allowed on the lake.
At the south end of Hampton Lake, a dam cascades into newly enhanced Jewel Lake, site of the Fly-Fishing School. Guests enjoying the Honeymoon Cottage also overlook this scenic lake, built in the days of Wade Hampton.
OUTDOOR ACTIVITIES
Activities abound for all ages, including our climbing tower, the Bean Stalk. High Hampton Inn also has volleyball, tetherball, croquet, badminton, shuffleboard, corn toss, fishing and horseshoes for active guests of all ages.
Many off-premise activities may be arranged and include pontoon boat rentals on Lake Glenville, fly-fishing excursions, waterfall hikes and white water rafting.